Accelerating the development of renewable and distributed energy resources
Derapi addresses one of today's most pressing challenges, climate change, by accelerating the development of renewable and distributed energy resources. We make it easier, faster, safer, and more economical for the players in the distributed energy ecosystem to connect to the rapidly growing universe of DER technologies.
Problem: Building and maintaining data connections to DERs is complex, slow, and costly.
The world is at a pivotal moment in the fight against climate change. People are demanding more sustainable solutions and renewable energy sources. This has led to a proliferation of new distributed and renewable energy technologies that enable a new energy paradigm – a democratized, decentralized, digitalized, and decarbonized electricity grid. While these technologies are critical to address the problems we face, they also create a complicated energy ecosystem. This complexity is slowing innovation and the uptake of new sophisticated and comprehensive solutions.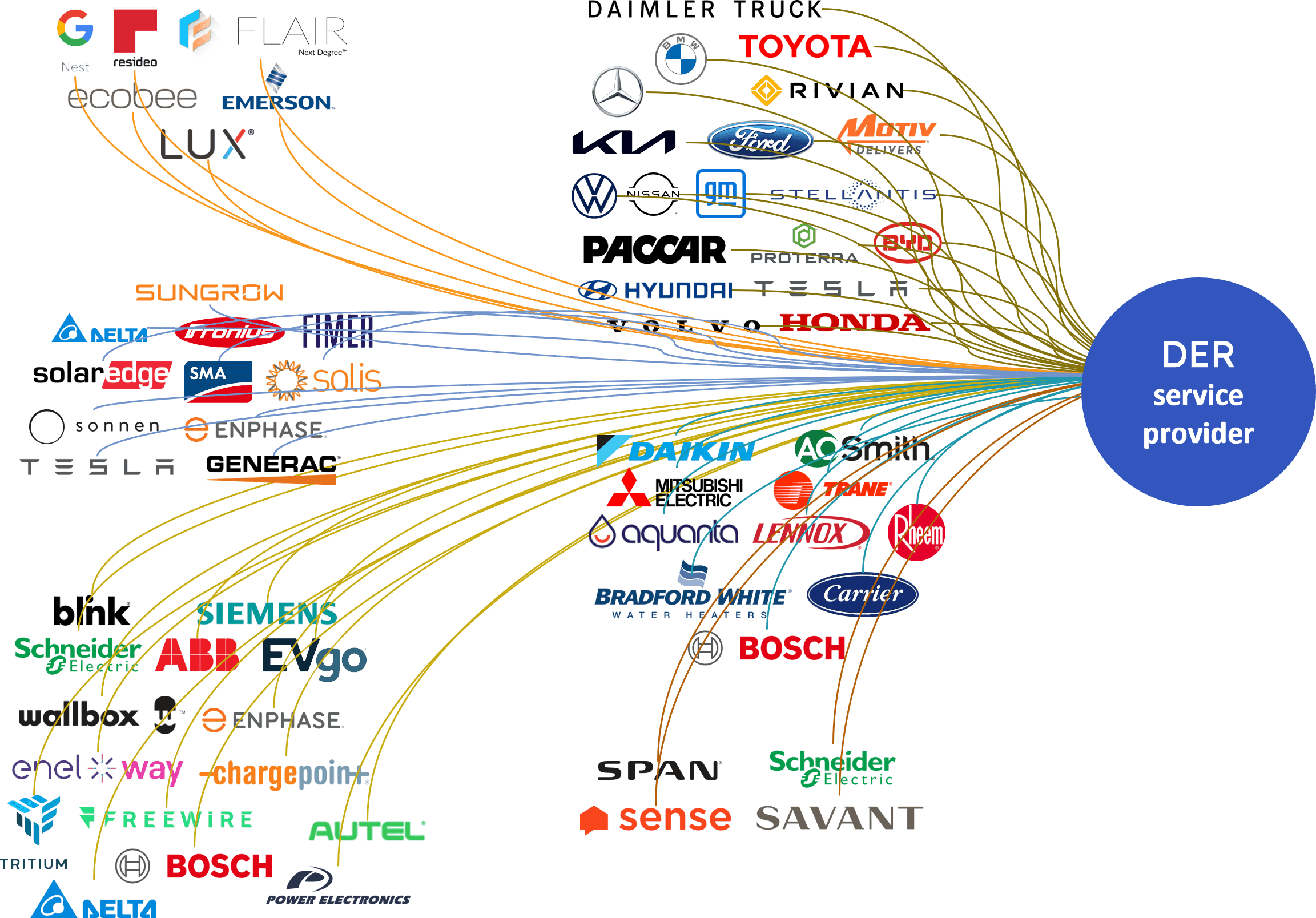 Solution: A uniform, managed API layer
The Derapi solution enables you to
Bring more solutions to market faster
Better serve your customers by focusing on your core value
Reduce errors and ongoing maintenance by simplifying your code
Improve reliability by offloading initial integrations, maintenance, and monitoring to API specialists
Manage security using well defined, best in class security measures
Protect privacy
Applications & Use Cases
With millions of DERs in the field and more coming online every day, we are closer than we have ever been to realizing the full potential of DERs. But coordination, communication, and aggregation are required to make the dream a reality. Today, proprietary APIs, communication protocols, and authentication slow progress down.
Customers
DERMS
Microgrids
Energy retailers

Application developers

Finance & asset management
O&M organizations
Partners
Solar + storage
HVAC
Water heating

EV charging

EV OEMs
Smart thermostats
DERM
Energy use modeling and device control
Onsite Energy Optimization
Grid management, energy modeling, infrastructure planning
Renewables Financing
Procurement planning & hedging
O&M
Asset monitoring and control
Sign Up for Our Newsletter
Want to stay in the loop on all the latest Derapi and industry news? Then sign up for our newsletter! It's packed with exclusive content that you won't want to miss out on. Submit your email below to stay informed!